With his shaggy hair covering his eyes, TJ arrived to Sheridan House last fall wearing an offensive rock t-shirt and a cynical "whatever" demeanor.  These external indicators proved to be sadly accurate in discovering some of TJ's character traits as well; however, what we were unable to see was the determined and stubborn resolve that resided in him.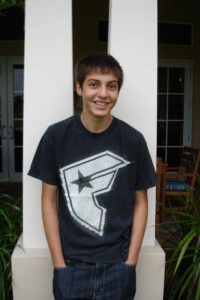 Like most of our residential boys, TJ believed nothing was his fault.  It was the result of his mom's efforts that culminated in his enrollment into Sheridan House – rather than his endless list of poor choices.  The fact that he was failing out of school was due to mean teachers who didn't like him – not the fact that he never did school work.  So obviously, his negative friends were due to the fact that that he lived in the "ghetto," as he put it, not because he continually sought out trouble.
Along with his irresponsibility, TJ chose to be aloof about most of the areas of his life.  Whether it was school, family, or Sheridan House; nothing really mattered to him, and no one could do anything to make him care.
TJ spent the entire first half of the school year focusing on making friends, breaking rules, and trying to convince any adult who would listen that Sheridan House was not for him.  However, TJ would show glimpses of a boy who did want more for himself, and did want to learn how to change.  Therefore, we repeatedly emphasized the same point to his parents.  BE CONSISTENT.  Although TJ had not accumulated points in the program, we knew if his parents would stay the course he would become convinced that his manner of thinking had to change.
"Great job TJ!" said Pop.  TJ had just gained his first points in the program.
"How'd you do it?" asked his mother.
"I'm just tired of always being in trouble", TJ said.  On April 21st, almost eight months to the day he started program, TJ earned three hundred points.  He finally started to change the way he thought about responsibility.  Unfortunately, it was too late in the year to change his grades and the consequence of being retained in eighth grade had already been earned.
TJ began our summer program a changed kid.  The first week he earned an award for exemplifying great character in his classes.  Throughout the next four weeks of the summer he was 1st or 2nd in points earned.  He also earned Team Captain Status in the home.  Then, he was selected to be on the "extreme" camping group in North Carolina.  While camping, he continued to demonstrate leadership by encouraging other boys and helping the staff without complaint.
TJ just finished 2 months of school in the eighth grade (again).  He was talking to his house pop about the good comments his teachers made on his daily progress report.
"I had a funny thought today Pop", he said shyly.
"What was that?"
"I was thinking; I guess my teachers really do care about me…and maybe I'm not here because it's my mom's fault; but because it's God's plan."
"You may be onto something there TJ" replied Pop with a smile.